Nokia PC suite – The OVI Suite 2.1 updated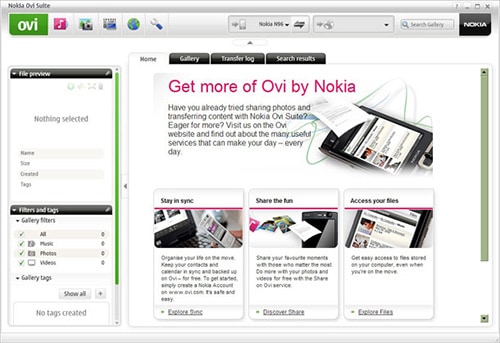 Do install the OVI suite or update existing one. This update brings you bug fixes and performance tweakings. Ovi suite works on the Latest version of window ie Windows7.
Stuffs improved
Fixed for Thunderbird 3.0 support, now you can choose Thunderbird 3.0 for contacts sync in Nokia Ovi Suite.
Fixes for multiple crash errors detected during Beta testing, for example related to maps view and calendar sync.
Improvements in overall Nokia Ovi Suite stability.
Many fixes to sync reliability.
Fixes issues related to ovi.com contacts sync (automatic sync option for contacts didn't work properly).
Improved checking for new software updates and other fixes to software updater features.
Fixes to video support, improvements into video support stability.
Fix for SIS application installation (double clicking SIS now works properly and starts installation procedure into device).
Many fixes to Nokia Ovi Suite UI localizations (languages).
Download Nokia Ovi Suite 2.1 Beta from here.
Share and Enjoy